A Decade of Dollars for Promising Research
Wendy Meyer | CCTSI
Mar 4, 2019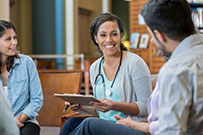 If you are a member of the CCTSI, chances are good you know our pilot grant program. (Remember, you must be a
CCTSI member
to apply for grants and participate in our programs!) Each year the CCTSI invests about $1.1 million in grants to support early career investigators, research partnerships with the community and development of novel technologies. Though the program launched with our first CTSA award in 2008, the first CCTSI pilot grant was made the next year, so 2019 marks ten years of giving these dollars away.
"Both the Colorado Pilot (CO-Pilot) and Child and Maternal Health (CMH Pilot) programs aim to support young investigators through mentored and junior awards," says Thomas Campbell, MD, director of the program. "The impact has been huge in terms of dollars awarded, follow-on funding earned and research advances made."
In addition to CO-Pilot and CMH Pilots, the CCTSI administers grants through the
Community Engagement (CE) Pilot Program
and the
Translational Methods Pilot Program
, which recently changed its name from Novel Methods Development.
Sandy Chalmers manages the many intricacies of the program and says that in ten years, 382 projects received funding at a total dollar amount of more than $11 million. This most recent award cycle attracted 144 applicants to the CO-Pilot, 19 of whom received awards; and 41 applicants to the CMH Pilot, six of whom received a grant. "I always like to thank the individuals who serve on our review panel–they work on a volunteer basis and are invaluable to our process–we typically have about 100 reviewers participating!" says Chalmers.
In early February, the CCTSI announced new awardees for the
Colorado Pilot Award (CO-Pilot)
and the
Child and Maternal Health (CMH) Pilot Award
. Novel Methods and Community Engagement grant programs are on a different award cycles. Novel Methods is reviewing their applications now and will announce their grants later this year. Community Engagement is wrapping up their
partnership review process, and their joint program will start recruiting applicants in mid-summer.
The CTSA grant from NIH/NCATS provides some of the direct funding for the pilot projects administered by the CCTSI. However, the School of Medicine provides $500,000 annually in support of the CO-Pilot program and the Community Engagement and Research pilots. The Children's Hospital Colorado Research Institute supports the Child and Maternal Health Research pilot program. "This critical institutional support allows us to have a program that goes well beyond what the NIH grant dollars would provide," Campbell says.
For every dollar invested in our pilot program, there is a return on investment of about $9 in follow-on funding. This follow-on funding is essential for the researchers themselves as they advance in their career, but it is also helps strengthen the academic institutions that are part of the CCTSI—CU Anschutz, CU Denver, CU Boulder and Colorado State University.
But of course the most important part of the program is the knowledge and discovery it fosters. Notable among the projects funded this year are three CU-CSU awards that will support new collaborations between researchers from both universities.
"Investigators of two of these projects are studying treatment of cancers that occur naturally in animals (pets) at the CSU veterinary school to improve cancer treatment in humans. The third is using a unique mouse model that was developed at CSU to study the effects of Zika virus during pregnancy," Campbell says.