Breaking Ground on a New Home for the CCTSI
Cristine Schmidt | Colorado Clinical and Translational Sciences Institute
Mar 4, 2019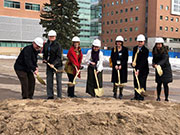 In late January, campus leaders took gold-painted shovels to the frozen earth and broke ground on the Anschutz Health Sciences Building. The ceremony, which included a reception—and a video that features CCTSI Director Ronald Sokol, MD—brought together the Anschutz Foundation, Chancellor Donald Elliman, CCTSI representatives and many of the faculty and staff who will be working in the new building. The CCTSI will occupy the sixth floor of this beautifully designed and cutting-edge facility.

"It's an ideal single environment which brings together all of the necessary elements as well as outstanding researchers and trainees into a place where they can ask important questions, answer those questions, and rapidly translate that into ways that patients and families can improve their health," says Sokol.

The facility will stand on what used to be the Cheyenne Wells parking lot, and is expected to open in mid-2021. With seven stories and 390,000 square feet, it will be home to 1,964 students and professionals.

CCTSI programs in the new building will include:

Administration Core
Division of Geriatric Medicine IMAGE (Investigations in Metabolism, Aging, Gender and Exercise) Research Group, which includes the exercise testing facility
Informatics Services Core
Translational Workforce Development & Education Core
Clinical Translational Research Center (CTRC):

Adult Outpatient Research Clinic
CTRC adult Cardiovascular Bio imaging Core
CTRC Nutrition Core
CTRC UCH Core Laboratory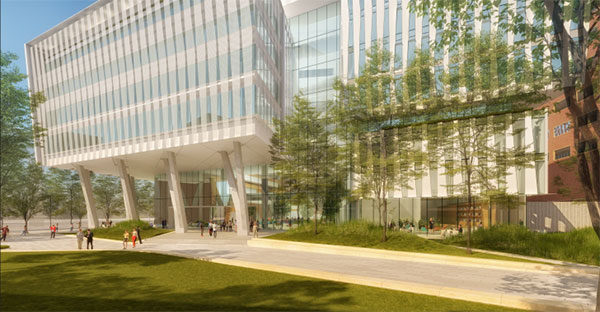 The new Anschutz Health Sciences Building will also be home for the Department of Psychiatry, Colorado Center for Personalized
Medicine, the Adult and Child Consortium for Health Outcomes Research and Delivery Science and the Center for Advancing Professional Excellence.
Tristan Adams, who works in the administrative core of the CCTSI, attended the groundbreaking and said the ceremony had a feeling of excitement. "Even though it was so cold outside, people were excited to be a part of the groundbreaking." Tim Lockie, CCTSI Administrative Director and Dr. Sokol both took their turns with the shovels.
As the building takes shape, stay tuned for photos, updates on programs that will be housed in the facility and information on construction milestones.
"I'm really glad the CCTSI is going to part of this incredible new building," Lockie says. "It will be a great place for our research community to collaborate while providing state of the art clinical research resources."