CCTSI announces new leadership in key research programs
Cristine Schmidt | Colorado Clinical and Translational Sciences Institute
Dec 9, 2019

The Colorado Clinical Translational Science Institute (CCTSI) is pleased to announce that Teri Hernandez, PhD, RN and Tell Bennett, MD, MS will assume new leadership roles in key programs. Dr. Hernandez has been appointed director of the Early Life Exposures Program (ELEP) while Dr. Bennett has been named director of the Translational Informatics Core. Dr. Hernandez takes over for longtime child and maternal health research leader Bill Hay, MD, who retired from the university in May. Dr. Bennett is taking over for Michael Kahn, MD, PhD who is stepping down at the end of the year to retire from his tenure as the inaugural director of translational informatics at the CCTSI.
Early Life Exposures Program (ELEP)
"Through my new role, I hope to enhance the infrastructure, collaboration and partnerships for perinatal research across the campus and to further strengthen the training environment in order to prepare tomorrow's leaders in life course research," says Dr. Hernandez.
She has been part of the CU community for nearly 20 years, developing a program of research exemplified by the execution of carefully controlled clinical studies focused on nutrition, metabolic health and early life exposures. Her research focuses on diabetes and obesity, insulin resistance, pregnancy and fetal growth--with an emphasis on how nutrition and metabolism influence these conditions. Dr. Hernandez and her research team, Infant GOLD (Investigations in the Gestational Origins of Lifelong Development), focus on in-utero programming influences that enhance or attenuate obesity, diabetes and cardiovascular disease risk. Her expertise is nutrition in pregnancy and gestational diabetes.
Besides her brand-new role as director of ELEP, Dr. Hernandez is the associate dean for research and scholarship in the College of Nursing and an associate professor of medicine and nursing at the University of Colorado. She is also an educator in the graduate school at CU and is a pediatric nurse scientist at Children's Hospital Colorado.
Translational Informatics
In his new role, Dr. Bennett says, "I'm looking forward to enhancing translational informatics infrastructure and partnerships on the Anschutz Medical Campus in addition to facilitating the translation of informatics and data science research to impact human health."
In 2014, he joined the faculty of the University of Colorado in the Department of Pediatrics Section of Critical Care, and he is also an attending physician in the Pediatric Intensive Care Unit at Children's Hospital Colorado.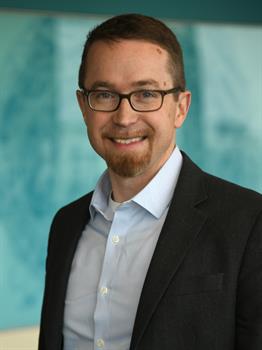 He now serves as Section Head of Informatics and Data Science in the Department of Pediatrics, co-director of the ACCORDS Data Science Program and as a member of the Health Data Compass Steering Committee. He holds secondary appointments in the Department of Biostatistics and Informatics in the Colorado School of Public Health and the Division of Biomedical Informatics and Personalized Medicine in the Department of Medicine.
His research focuses on the development and deployment of novel computational models and tools for real-time clinical decision support, especially in data-dense and high-risk areas such as intensive care units.
If you would like to learn more about the programs that Drs. Hernandez and Bennett are leading, go to
ELEP
or
Translational Informatics
on the CCTSI website.
Tags:
CCTSI
ELEP
Translational Informatics