Nurse Managers From the CCTSI and Research Institute Lead by Example
Wendy Meyer | CCTSI
Mar 6, 2019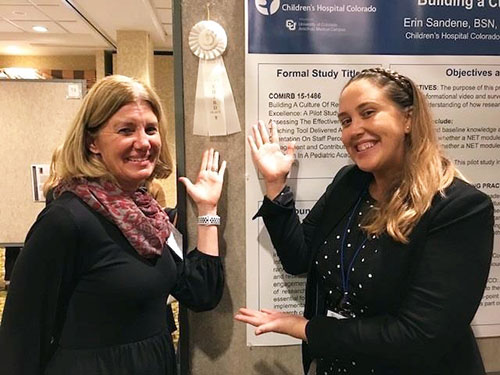 Lisa Lewis, BSN, RN, CCRC and Erin Sandene, BSN, RN, CCRC are both nurses who dedicate their careers to child health research. Lewis manages the specialized research nurses at the CCTSI's Pediatric Clinical and Translational Research Center. Sandene manages research coordinators, clinical research supervisors, lab staff and the operations overall for the Research Institute. Together they help to safely and effectively implement hundreds of clinical trials each year at Children's Hospital Colorado.
"One of our passions is to educate our colleagues at Children's about research being an integral part of the hospital," says Sandene. "When I started working here there was no mention of research at all in my weeklong orientation."
In addition, both women said they heard negative talk about research—coming from patient families and hospital staff. As part of their mission to change the perceptions of research, they engaged staff everywhere—from the gift shop to the information desk and even the Daz Bog coffee shop. They talked to these workers about the importance of research and sought to develop a relationship, on behalf of the hospital's research enterprise, with staff members across the institution. They also sought to engage nurse partners throughout the hospital, as the nurses providing front-line care have a significant impact on the successful recruitment of subjects.
"We knew this was way bigger than just Principal Investigators (PIs) and coordinators," says Sandene.
The two women took it upon themselves to write and produce a video about how research is essential to every aspect of the Children's Hospital mission and the impact of research on advances in child health. For several years they asked for funding to create such a video, and in 2017, the hospital gave them the funds to hire a professional production company to polish up their script and shoot and edit the piece called Building a Culture of Research Excellence.
But they didn't stop there. They created a research study around the video, which the hospital began showing at new employee orientation, to see if the four-minute piece made an impact on how staffers viewed research. Objectives of their study included understanding baseline knowledge and perceptions of clinical research; determining whether the video increased understanding of the research mission; and determining whether the video improved perceptions about the research mission. They developed a pre- and post-video survey as part of the study and even got COMIRB approval for their project. They presented a poster on their study and showed the video at the International Association of Clinical Research Nurses Conference this year; they won third place. Lewis and Sandene will continue with their study along with their mission to educate their hospital co-workers. They are also excited to advance the collaboration they have built between the pediatric CTRC and the Research Institute. "One of the benefits of working for CTRC Nursing is that we never know what new study is going to come through our pipeline," says Lewis. "Everyone is constantly learning." According to Sandene, the research nurses and coordinators work so well together because it is a collaborative, supportive environment. "This is much more a culture of yes than anyplace I have ever worked," she says.