Patients with a rare form of epilepsy now have a new treatment option
FDA approves a drug that dramatically reduces seizure frequency
Wendy Meyer | CCTSI
Sep 24, 2020
Most physicians who conduct clinical trials say they were drawn to research because they wanted to discover new treatments and cures. Such findings are rare, but, every once in a while, clinical trials result in a new treatment that is life changing. This was the case with two trials led by pediatric neurologist Kelly Knupp, MD, who tested the long-term safety and tolerability of an anti-seizure medication called fenfluramine. After conducting the studies for four years, the FDA approved the drug in the summer of 2020 for the treatment of seizures associated with Dravet syndrome.
Dravet syndrome is a life-threatening, rare and devastating form of epilepsy. It is often characterized by severe and unrelenting seizures that don't respond to medical treatment. Onset of the disease is usually within the first 18 months of life, and children may have hundreds of seizures a week and experience seizures that persist for hours at a time. As a result, many have severe developmental delays.
"Dravet syndrome is described as a catastrophic form of epilepsy," says Shannon French, mother of Ben French who has been living with Dravet for more than 21 years. "Your kid is born normal and you watch him lose everything."
At age 19, Ben started on the fenfluramine trial at Children's Hospital Colorado, and after taking it for several months, he began to experience life without seizures. Today, Ben is going on more than two and a half years being nearly seizure-free.
The Clinical Trial
Starting in 2016, Dr. Knupp was the site lead for the randomized, double blind placebo study of fenfluramine, sponsored by Zogenix. The study was performed in the Clinical and Translational Research Center (CTRC) at Children's Hospital Colorado. The CTRC is part of the
Colorado Clinical and Translational Sciences Institute (CCTSI)
. Trials took place across the nation. At the end of 2019, Knupp and her co-authors published their findings in
the Lancet
. Later, an open label extension study was conducted where the participants knew they were receiving fenfluramine.
Both studies showed that the drug was effective in controlling seizures associated with Dravet syndrome. The studies measured the change from baseline in the frequency of convulsive seizures. And in both studies, individuals treated with fenfluramine had significantly greater reductions in the frequency of convulsive seizures during the trials than subjects who received placebo (inactive treatment).
"This medication compared to any other medication that has been tried in this population, has a greater reduction in seizures," says Knupp. "The median reduction in seizure frequency is 75 percent. And a smaller percentage of participants became seizure-free or nearly seizure-free."
She continues, "To have even a countable percentage of kids who were seizure-free or nearly seizure-free is in incredibly rare."
Fintepla is the trade name for fenfluramine, which is a Schedule IV controlled substance that was originally approved to treat obesity but was later pulled from the market. The drug's labeling includes a warning stating that it is associated with valvular heart disease and pulmonary arterial hypertension. Because of these risks, patients must have cardiac monitoring using echocardiograms performed before treatment, every six months during treatment, and once three to six months after treatment.
Fenfluramine is available only through a restricted drug distribution program, under a risk evaluation and mitigation strategy (REMS). As part of the REMS requirements, prescribers and patients must adhere to the required cardiac monitoring.
The FDA granted this application
Priority Review
. Fenfluramine received
Orphan Drug
designation, which provides incentives to assist and encourage the development of drugs for rare diseases.
Knupp says, "It takes lots of people to make this kind of study work—the CCTSI does this all of the time. It takes everybody as a team...my component was really small. Sarah Temple was the clinical conductor and lots of people were involved: those who schedule patients, those who did the blood draws."
She continues, "All of our patients loved every member of the team they met. It was universally a positive experience for everybody. Some of my patients have already asked if we need to get blood drawn can we go back to the CCTSI!"
Moving Forward Developmentally
David Hong, staff sergeant in the US Army, and his family have been stationed at Ft. Carson since 2015. His family's choice to move to Colorado was largely motivated by the care they sought for their daughter Sophia, age 12, who has Dravet syndrome.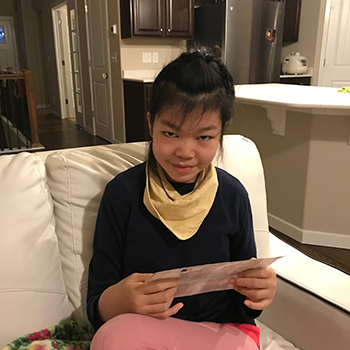 Sophia receives care from Dr. Knupp at Children's Colorado and has been participating in the fenfluramine clinical trial for three years.
Hong says it took about a year of Sophia being on the drug and getting all the dosages just right before they started to see a difference. Eventually, Sophia began to experience life without seizures. "When she was seizure-free for one year, it was amazing, we couldn't believe it. She was able to walk more, do different activities. I could see that she was understanding more. She could concentrate more and make eye contact," says Hong. "That was a big milestone for us. She is nonverbal, but she signs. We could tell she improved immensely within that year."
Once Ben French started to experience life without seizures, his life also was dramatically changed for the better.
"We used to work all day long to keep him from sleeping all day," says his mother Shannon. "Now he can go all day long without the nap. He is very focused. He gets what is going on. He is moving forward developmentally. He is so engaged in life. He is getting his language back, he laughs. He spends all day trying to communicate and talk.
He is definitely making some good milestones."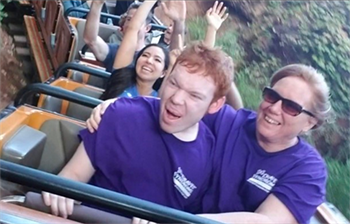 She sums it up by saying, "If he can keep moving forward, who knows?!"
Hong has just been deployed to South Korea for a second time. "One of the reasons I am going to Korea is so I can return here for another three years," he says.
Hong says that being on the clinical trial has been a "godsend." During the time Sophia has been seizure-free, the family was able to take a trip to Orlando, which was made possible by the Make-A-Wish Foundation. He says the trip is one of the biggest things they have been able to do as a family.
He says, "We are very thankful for Dr. Knupp and the team and the research over there. I would love to stay in Colorado as long as I can because of the team at Children's."
Tags:
CCTSI
Children's Hospital Colorado
Clinical Trials
CTRC
Dravet Syndrome