Revealing New Insights
CCTSI researcher publishes findings on rare genetic disorder
Wendy Meyer | CCTSI
Mar 6, 2019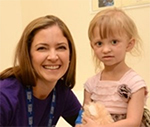 In the US, a rare disease is defined as one that affects less than 200,000 people. Yet the total number of Americans living with a rare disease is estimated at between 25-30 million, highlighting the fact that while individual diseases may be rare, the total number of people with a rare disease—and the need to study them—is huge.
Here at the CCTSI, endocrinologist Stephanie Hsu, MD, PhD has been studying an extremely rare genetic disorder called focal dermal hypoplasia or Goltz syndrome, and is about to
publish her findings
in the
American Journal of Medical Genetics
.
In the summer of 2015, Hsu, with the help of the
National Foundation for Ectodermal Dysplasias (NFED)
, gathered together 16 of these patients for an intense one-day study in the CCTSI's pediatric Clinical and Translational Research Center (CTRC). It is estimated there are only 37 children across the nation living with Goltz syndrome, which can include symptoms such as short stature, skin lesions, eye and teeth abnormalities and limb deformities.
"We had 16 kids from ages 3-18 come from all over the country," says Hsu. "It was quite a feat for the CTRC to support this study. We pulled in all the nurses and it was all hands on deck to take care of all the kids that day."
With her study, Hsu aimed to find the cause of their short stature by assessing growth charts, determining bone ages and growth measurements, examining laboratory data, assessing dietary intake and performing a growth hormone stimulation test. What she found will be of great use to families struggling to care for their children with this condition: there may be options to treat the short stature with growth hormone.
"This disease is so rare so anything we can find out will help parents and caregivers," says Mary Fete, executive director of the NFED. "These kiddos are short in stature and small. We were hoping to see if growth hormone was an issue."
While 11 out of 16 patients had short stature, only four had a Body Mass Index (BMI) less than the 5th percentile for their age. Furthermore, laboratory results ruled out a gastrointestinal, allergy or autoimmune cause of growth failure. Three of 11 children who consented to have their bloodwork analyzed had results that suggested they had possible growth hormone deficiency. In addition, the data suggest that undernutrition is not the cause for lack of growth in most. In other words, there may be other underlying treatable causes—i.e., growth hormone deficiency—for the short stature in some patients.
Fete says that learning more about the growth patterns and what could cause potential growth delay is very important. "You worry about your kids when they are tiny; anything we can learn to help families understand this is huge. Now we know if their kids are short in stature, they could consider treatment with growth hormone. For some children, this will be a treatment option," Fete says.
Hsu notes, however, that growth hormone testing is tricky and would require additional tests that could be conducted by the patients' physicians in their home states. Both Hsu and Fete hope this study prompts further research into this rare disorder, which will ultimately provide further treatment options for patients and their families.

"We are so grateful to Dr. Hsu for taking such an interest in this rare population...and for dedicating her professional time and expertise to make this research possible," says Fete.
Categories:
University - Image or video tags

University - News and events tags

|