The Specialty Practice of Research Nursing
Five Questions for Lisa Lewis, BSN, RN, CCRC
Wendy Meyer | CCTSI
Mar 18, 2020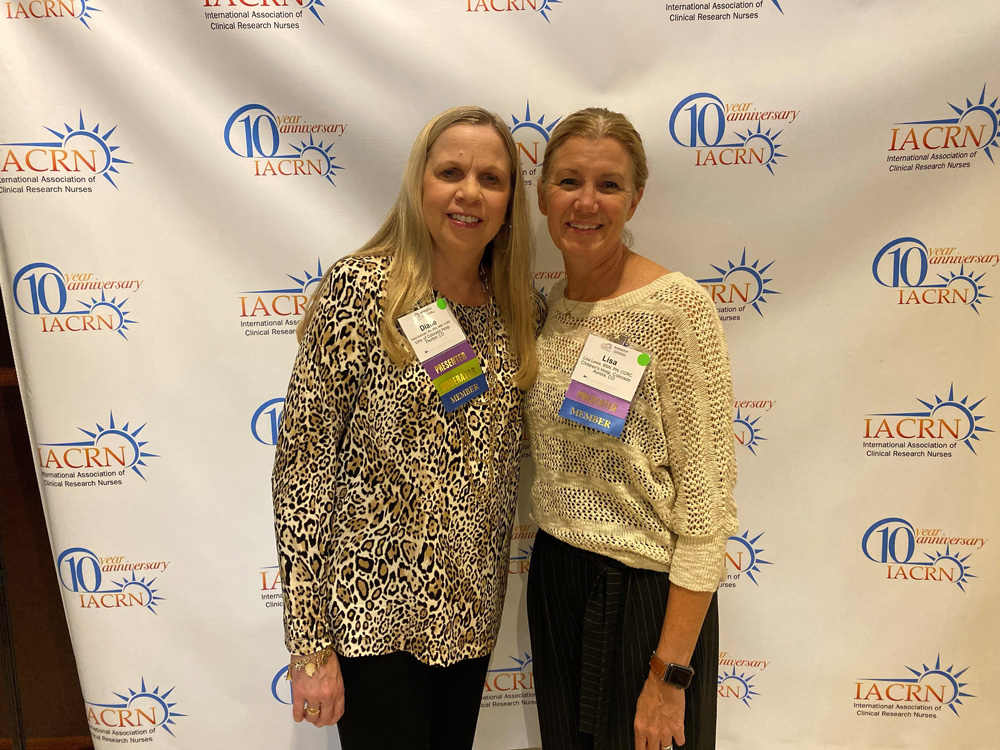 Lisa Lewis, BSN, RN, CCRC is a 17-year veteran of the Clinical and Translational Research Center at Children's Hospital Colorado; she shares her unique perspective on clinical research nursing and the specialized resources available to clinical investigators at the University of Colorado Anschutz Medical Campus. She is pictured here (on the right) at a recent conference with her colleague Diane Branham, BSN, RN, MBA, CCRC.



1. Tell us about your role here at the CCTSI and with the International Association of Clinical Research Nurses?

I am the Clinical Program Manager for the CCTSI's Children's Hospital Colorado Pediatric and Perinatal Clinical and Translational Research Center (CTRC). I am currently involved in a leadership program through the International Association of Clinical Research Nurses (IACRN). The purpose of the leadership program is to provide a framework to engage IACRN members, nourish leadership and foster an environment of collaboration and professional development.
[Research Nursing as a specialty practice was recognized by American nursing association in 2017, and at that time research nurses were given their scope and standards of practice.]
As part of the leadership program, I was paired with a mentor who is the director of clinical research nursing at Seattle Children's Hospital. I have monthly phone calls with my mentor and with the larger team of mentors and mentees. We are given assignments each month to develop a framework for building a foundation of future leaders in IACRN and clinical research nursing. It has also been an opportunity to share best practices and ideas with other clinical research nurse leaders internationally.
In addition, I have benefited from being able to present and share nursing practices from our campus annually at the international conference. I presented a poster in 2018 and a podium presentation in 2019. I have been part of the IACRN education planning committee since 2018. It is so helpful to know there are other clinical research nurse leaders I can reach out to and partner with, especially those leading clinical research centers at other CTSA sites.
2. What do you find most exciting about your role?

It is exciting to be leading a group of clinical nurses on this campus to be involved in research protocols assessing new technologies along with new investigational products to treat diseases. As an example, we are partnering with investigators to study new investigational products for spinal muscular atrophy, hypoinsulinemia, epidermolysis bullosa and Duchenne muscular dystrophy.
3. What changes have you seen in pediatric research in the 17 years you have been with the CTRC?
It has been exciting to be involved with new therapies and treatments for rare disease at Children's hospital Colorado. In August 2018, my team was involved in administering a single dose gene replacement therapy for spinal muscular atrophy (SMA). Most children with SMA do not survive past early childhood. My team and I have had the privilege to continue follow up with this child, who toddles into our clinic for his follow up visits. There is so much joy watching him run down our hallways with a smile on his face. This is only one of the new therapies my team is involved in, but each one brings such promise to our participants and their parents.
4. What would you want investigators on this campus to know about the CTRC?
It is important for people on this campus to know that we have built a specialty practice in clinical research nursing that is focused on caring for our research participants and the fidelity of the research protocol. At Children's we have the unique opportunity to provide excellent nursing care to our pediatric participants and their families.
Diane Branham, clinical manager for the adult CTRC, and I work closely with the CCTSI Director of Operations Janine Higgins, PhD and other campus leaders to help pair our investigators with the best resources for our protocols. As new investigators come to this campus, they don't always know all of the resources that are available to them. Diane and I can help navigate the expert clinical research nurse resources our teams can provide.
Go to the the
CTRC website
for more information on nursing services and resources.
5. What keeps you doing the work that you do each day?
Overall, it is gratifying to see that the research protocols that we implement in the CTRC make a difference in children's lives. Being with CTRC for 17 years, I can see that research protocols that were conducted when I first started have led to the development of the new drugs like TRIKAFTA that are directly treating kids with cystic fibrosis and completely changing their future. I also look at the research we have done with type 1 diabetes—early in my career I was involved with new studies for the closed loop artificial pancreas technology and, now these therapies have FDA approval to treat type 1. It has always been rewarding to be involved day-to-day and to see how it is changing child health outcomes.
I am passionate about leading our CTRC nursing cores to be strong professionals in research nursing: advancing and promoting clinical research nursing as a specialty practice.
Categories:
College of Nursing

University - Image or video tags

University - News and events tags

|