Think you can code?
Inaugural hackathon a success
Theresa Jennings | CIDA
Mar 18, 2020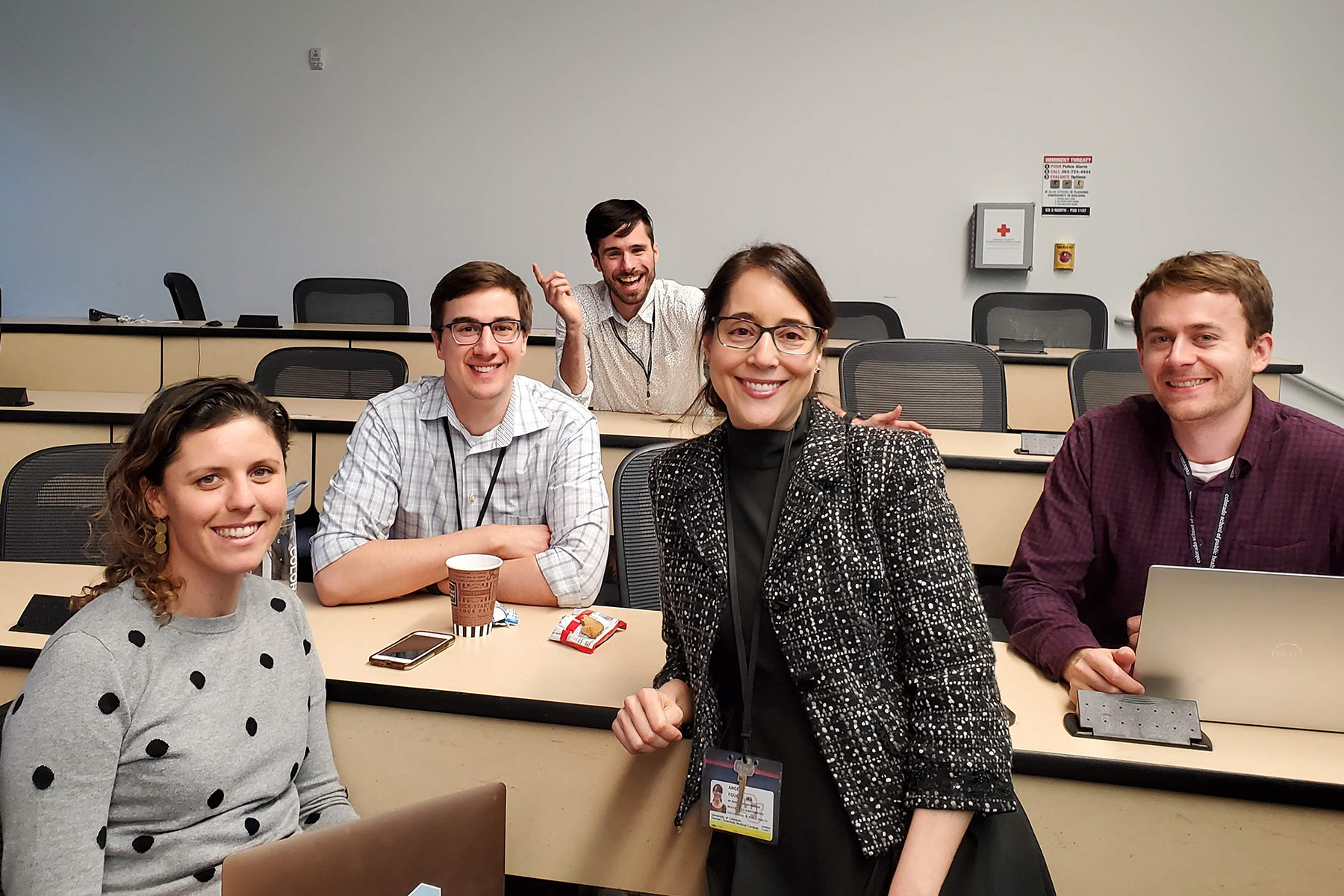 What can a group of individuals with access to wearable data accomplish in 24 hours? It turns out the answer is nothing short of amazing. In January, teams from across the Front Range embarked on a 24-hour adventure to code and analyze a wearable data set at CU Anschutz.
Laura Grau, MPH, senior professional research assistant with the Center for Innovative Design and Analysis (CIDA) was the brains behind organizing the event. Grau and a team of volunteers set the event in motion to ensure participants at all levels of experience would be able to participate and gain valuable hands-on practice.

"The Hackathon seemed like a great opportunity to bring together investigators, biostatistics faculty and students in a collaborative environment where it is easier to make connections," explained Grau. "As someone who struggled to find mentors early in my career, I wanted to facilitate these conversations such that investigators could be connected to clever, innovative students who are driven to find creative solutions to the questions investigators have been asking."

CIDA hosted the event in partnership with CCTSI's Biostatistics, Epidemiology, and Research Design (BERD) program. This partnership provides resources for CIDA to offer educational opportunities to our research community.

The Hackathon Impact
The Hackathon attracted creative, analytic minds that sought out the opportunity to apply methods in innovative ways to different areas of research. "From creative visualizations to innovative methods, the products that Hackathon participants created became useful tools to further the research," said Grau.

The wearable data, and wanting to see what participants could come up within a compressed time frame, enticed Jennifer Blankenship, PhD and postdoctoral fellow in the Division of Endocrinology to participate in the CIDA Hackathon. "In my research, we frequently use wearable monitors to assess behavior and metabolic outcomes in the real world," Blankenship explained. "This year's topic was of personal interest to me as I am interested in novel approaches to visualize and summarize data from wearable monitors."

"The Hackathon has given me some ideas of ways the field can be pushed forward in the analysis of physical activity pattern identification," Blankenship said.

Building a Community
The event drew professionals with years of experience and students who were trying to develop career-ready skills. "During the event, students who participated gained real, hands-on experience with data that is currently being used in research," Grau said.
The experience was not limited to the data analysis but also included the development of skills essential for working on a team. "Not only did they go through the process of talking through research questions with the investigators, they also experienced the highs and lows of complex data management and analyses," Grau said. These experiences easily translate to tangible skills that students can use when working on projects through internships or applying to jobs.

This event also connected individuals at CU Anschutz who can serve as resources for each other. "I met a number of faculty at CIDA that I wouldn't normally cross paths with," Blankenship said. "This has opened communications and opportunities across campus that I didn't have before the Hackathon."

On the Horizon
Another reason the event was well received was because it required a range of skill sets. Each team took their previous knowledge and applied it to the data. The different approaches allowed participants to learn from each other and add knowledge to their own tool box.

"After seeing the Hackathon in action, I would 100% participate again next year regardless of the topic," Blankenship said. "The energy in the room and excitement of seeing participants have their breakthroughs and give their final presentations was just awesome, and I look forward to what next year will bring!"

"You also never know who will be there and what opportunities may come your way after you showcase your skills," she concluded.