Thomas Flaig, MD, Helps to Define Standards of Cancer Care in Africa
CCTSI leader travels to Ghana to collaborate with clinicians
Garth Sundem | School of Medicine
Oct 3, 2018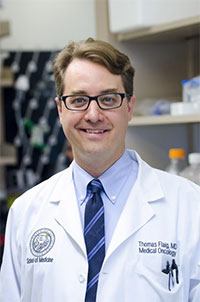 The National Comprehensive Cancer Network (NCCN) is an alliance of 27 leading cancer centers working together to set the standards of cancer care followed by clinicians around the country and the world. However, not all countries can realistically deliver the same strategies of screening, diagnosis, and treatment. Rather than throwing out NCCN guidelines entirely, many developing areas choose to "localize" these guidelines, adjusting them to work with the realities of the medical infrastructure in their areas.
As Chair of the NCCN Clinical Practice Guidelines in Oncology Panel for Bladder Cancer, Thomas Flaig, MD, recently returned from a trip to Ghana with the African Cancer Coalition, where he met with a panel of six African physicians to localize NCCN genitourinary (GU) cancer treatment guidelines for use in Sub-Saharan Africa. The outcome of these meetings would decide how best to treat people diagnosed with bladder and kidney cancers in Sub-Saharan Africa.
A leader in clinical research, Flaig is associate dean for clinical research at the University of Colorado and serves on the executive committee for the CCTSI. He also directs the CCTSI's new Trial Innovation Network Hub Liaison Team of the CTSA program.
"I was stuck by the thought and the pragmatism of these physicians who were focused on delivering evidence based-care to their patients, as thoughtfully as they could, with the resources that were available," says Flaig, who is also the Chief Clinical Research Officer of UCHealth.
Over the course of three days, Flaig and the other members of the panel pored through the NCCN parent guidelines that define standards-of-care across cancer types and stages.
"For example, they would say, 'That drug, we can't obtain here, but why don't we do this instead,'" Flaig says. "Or, there are times when NCCN guidelines recommend the use of MRI, but that's just not available in some of these settings, so we looked at situations in which these physicians could use alternative imaging modalities instead."
Tom Flaig (right) with physicians working to localize NCCN bladder treatment guidelines for use in Sub-Saharan Africa
Flaig points out that in order to adjust these NCCN guidelines, physicians on the panel first had to interpret the guidelines as originally written, largely in the context of delivering cancer care in the United States. And through this process, "We found 8-10 points in the parent guidelines that either weren't clear or that we could consider changing based on how they're interpreted or how they're used internationally. This process in Ghana will help make the parent guideline better," Flaig says.
He also suggests that the trip could lead to research collaborations benefitting patients in the U.S. and in Africa.
"It was a chance to make a connection," Flaig says. "For example, prostate cancer is especially prevalent in Africa. It might be an opportunity to say, hey, let's look at prostate cancer in these two places and see what we can learn. Our group in Colorado has been studying the metabolic changes in prostate cancer patients treated with traditional hormone therapy – are there differences in patient response to such therapy in African and US patient populations?"
Categories:
Anschutz Medical Campus

center

clinic

hospital

institute

Research

Researcher

|
Tags:
translational research