Coming Full Circle
Doctor who cares for COVID patients participates in monoclonal antibody clinical trial
Wendy Meyer | CCTSI
Dec 21, 2020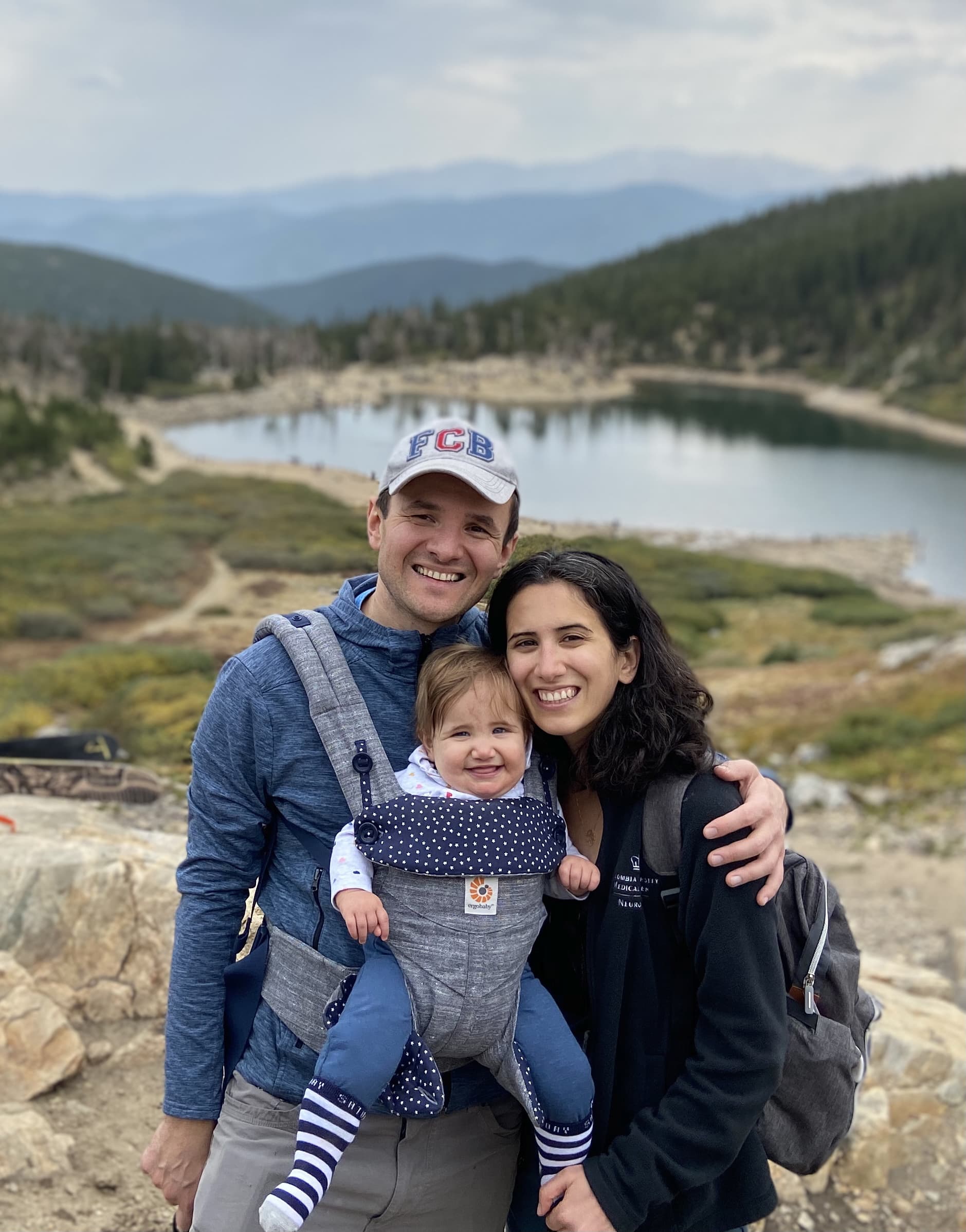 The past nine months of the pandemic have been at times frightening and exhausting—especially for those on the front lines of medicine. Yet, for those at the
Colorado Clinical and Translational Sciences Institute (CCTSI)
who dedicate themselves to clinical research, it has also been gratifying.
"It has been incredible the speed at which studies have started and have been conducted," says Dr. Amiran Baduashvili (pictured at left with his family). He should know because not only does he treat COVID-19 patients but he also volunteered as a participant in a clinical trial to treat the disease.
Dr. Baduashvili is a hospitalist at
UCHealth University of Colorado Hospital
, a visiting associate professor in the School of Medicine and a co-investigator of the
Regeneron monoclonal antibody clinical trial
to treat inpatients with COVID-19. One day in November, Dr. Baduashvili was at work, tending to patients. "When I finished rounds late morning, I started to feel fatigued, achy. I took my temperature and it was around 100F. I called employee health, got tested right away and went into isolation," he says.
"I think that same evening I messaged Tom and said, by the way, do you think I may be eligible for the outpatient study?"
"Tom" is Dr. Thomas Campbell, chief clinical research officer for UCHealth and medical director of the Clinical and Translational Research Center, where he has led the majority of the COVID-19 treatment and vaccine trials at UCHealth. He is also the Principal Investigator (PI), of the Regeneron clinical trial.
It turns out Baduashvili was eligible, so he enrolled. "I had fevers for about three days, body aches, coughs, fatigue. I completely lost my sense of taste and smell," Baduashvili said.
He knew the study well as he had been working as a liaison between study coordinators, investigators and the doctors in the hospital. He also worked to "consent" patients for the study, which means he would talk to individuals who might participate in the study, explain the risks, benefits and details of how they would be involved—and answer any questions they might have.
"I worked with Tom in the Sarilumab and Remdesevir [COVID treatment] studies," Baduashvili said. "It was a little bit of a full circle: I care for patients with COVID. I recruit and enroll. And now I was a patient in a study."
Experience as a research participant provides new insight
As a participant, he went to the hospital and took a special route in a back elevator to avoid crowds. He spent the next six to seven hours in a research room where he underwent initial testing and then received an infusion. Afterward, he was observed by research nurses and other clinical staff.

He is not sure whether he got a placebo or the real medicine. (There is a 2 out of 3 chance of getting the real medicine and a 1 out of 3 chance of getting the placebo.) Study staff sent him home that evening.

"I was febrile until that evening," he says. "I do not know if I received a placebo or the real thing…I am very curious to find out." Today, he is completely back to normal, having finished his 10 days of isolation. Indeed, he is back to treating COVID patients in the ICU.

He says his experience as a participant gave him some crucial insights.

"When I was consenting patients, I was not putting too much emphasis on how much follow-up was needed for a study like this one," he says. "As a participant, I was concerned for how often I was going to have to follow up: swabs every other day for two weeks, and then for the next two weeks nasal swabs twice a week. More than 10 swabs in total. Once a week I have to get blood drawn; they bring me into Anschutz Outpatient Pavilion research rooms. For one month I will have to do a blood test once a week."

The number of appointments and the commitment of time after the treatment can be substantial.

Baduashvili continued, "All of these logistics become very important and I did not think that much about them. I had been focused on the medicine side of things. Now I focus on human kinds of things such as 'how am I going to make my appointments?'"

He also realized how isolating and lonely COVID isolation can be. "I have a 10-month-old and I could hear her burble and I could not see her. I had to isolate for 10 days. That is the minimum required. That was very tough," he said.

He noted that getting through the illness and the isolation demanded incredible efforts from his family, especially his wife.
Acknowledging the full research community
Going forward, Baduashvili says he wants to recognize the research community for the way they have come together to invest countless hours into finding treatments and finding new vaccines for coronavirus. He calls out Tom Campbell in particular for working for months without rest.

"A lot of times when these studies finish and we have a publication, we give recognition to the list of authors. But it is important to recognize these trials have infrastructure that involve site investigators, nurses who have worked so hard. I hope they get the recognition they deserve," he continued. "It has been incredible to see the collegiality. Everyone stepping up to make the studies happen. It is thrilling to see that."
Tags:
CCTSI
Clinical Trials
COVID-19
Regeneron
UCHealth