Remote work during COVID-19
Perspectives of CCTSI Members
Heather M. Gilmartin
Jun 4, 2020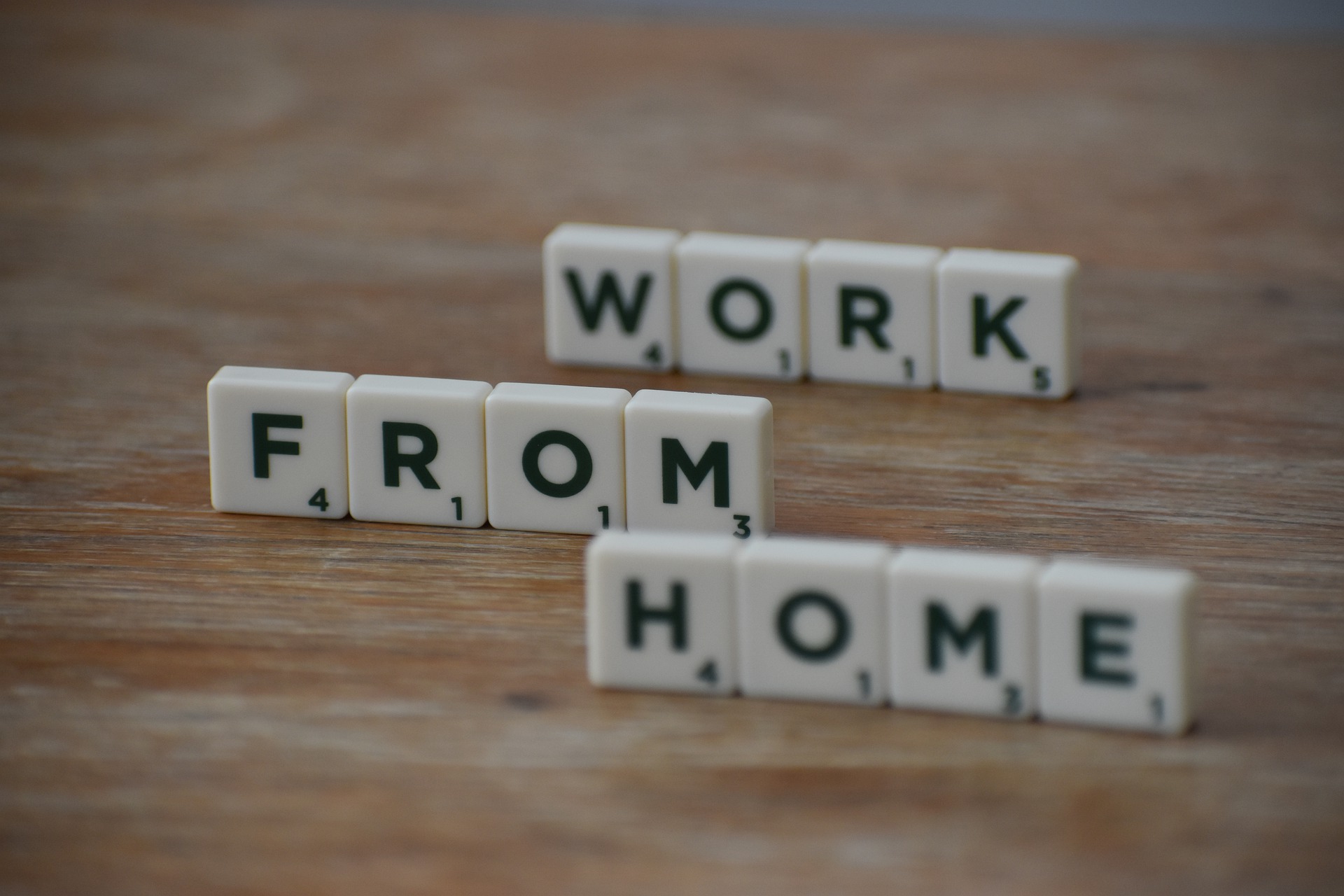 The CCTSI community includes researchers and staff from across the clinical and translational science spectrum. We come from diverse backgrounds, live throughout the State of Colorado, and conduct our work in laboratories, clinical settings, office settings, and occasionally in remote worksites or home offices. Then came COVID-19. In a matter of days, researchers and staff were told to continue our programs of research from home. Books and files were collected, labs were closed, all but essential clinical trials were put on hold. Makeshift home offices were created in closets, bedrooms, garages and on kitchen counters. This unprecedented remote work experiment comes while society is struggling with anxiety, fear and grief due to COVID-19. Many of the CCTSI community are working on the frontlines. CCTSI members don't all have access to the same resources or support systems. Not everyone's struggles are the same. To understand the impact of remote work during COVID-19 on academic researchers, we conducted the first of its kind survey of CCTSI researchers and staff in late April 2020. In total, 322 CCTSI members from CU Anschutz (n=254; 79%), Children's Hospital Colorado (n=87; 27%), and other CCTSI partner organizations responded. The sample was largely female (n=240; 75%), between the ages of 21-73 (mean = 42 years), with a PhD (n=139; 44%), master's degree (n=79; 25%) or MD (n=56; 15%). We heard from faculty investigators (n=165; 51%), primarily at the Assistant Professor level (n=67; 41%), and research clinical staff (n=105; 33%). We are grateful to all those who shared their experiences and are happy to share key findings and opportunities to enhance remote work for the future.
Key Findings
Very few people were prepared to work from home. Only 24% (76 of 322) reported working from home more than 1 day a week prior to COVID-19. At the time of the survey, 94% (n=303) were working remotely, while 6% reported they were not permitted to remotely work.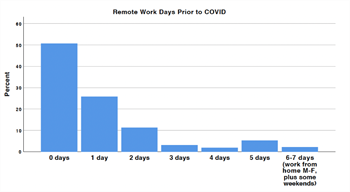 Remote work during COVID is interfering with research activities. Over 75% (244 of 322) of respondents reported that remote work interfered somewhat to a great extent with their research activities. This was more common for young (rs= -.196; p= 0.00, N = 321) and for early stage faculty investigators (rs= -.221; p= 0.00, N = 321).
Vital scientific research is being delayed due to COVID-19. 71% (231of 322) of respondents reported they would be slowing or putting their research on hold.
The survey collected information on barriers to conducting research during COVID-19. These include specific issues for laboratory and clinical researchers, professors, parents of young children, and general communication and societal challenges. We provide a selection of quotes that address these themes:
"…cannot interact with lab personnel effectively and lead their research."
"…ability to work in clinical settings, restrictions on ambulatory visits at a system-level (patients are limited to virtual visits/phone calls at this time), patients/research subjects not having full access to technology for full virtual visits and follow-up"
"…changes to clinical shifts in response to covid - increased hours, many and ongoing changes to hours/locations."
"…When campus was closed, and all teaching moved to remote learning there was zero support for our students who did not have the capability to learn remotely..."
"…ability to problem-solve and brainstorm with colleagues. Full time telecommuting interferes with the spontaneous or more immediate "chance" interactions that are good opportunities to ask a question, muse about a finding, etc..."
"…the barrier is not "children in the home" but lack of childcare/school resulting in interrupted and disjointed work hours."
"… Access to files that would facilitate work. Lack of access to work computer - working from personal laptop difficult…"
"Fiscal uncertainties forcing changing priorities in work duties (e.g. needing to submit more grants is detracting from planned study activities and manuscript writing)"
Opportunities to Enhance Remote Work During COVID-19
The CCTSI community is now three months into remote work and the future is not clear. Many university campuses are telling their employees to work remotely through the end of the year, or to develop plans to allow small groups of staff into offices or labs.
CCTSI members have a responsibility to creatively address the impacts of remote work during COVID-19, when possible. We appreciate some barriers are insurmountable for laboratory scientists, clinical researchers, educators and parents. For those who can adapt their research programs and lives to remote work, there are strategies to enhance the experience.
CCTSI members who responded to our survey indicated they were using many strategies to engage their teams and maintain productivity. This includes hosting video conferences (88%), altering timelines and expectations (56%), and using virtual social events (coffee hours, lunch breaks) [44%)] and self-care activities (group meditation, book clubs) [20%] to keep teams together. Daily huddles (14%) and group messaging (10%) were being used less often.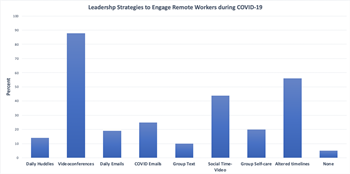 Many quick fixes, such as the standing desk created from two boxes and a plank, worked in the short term. However, as remote work becomes a long-term practice to control the spread of COVID-19, we have a responsibility to go find sustainable solutions to support CCTSI members. We encourage individuals, along with CCTSI and University leaders, to consider the additional strategies below that are gleaned from the business and technology worlds. We have also included links to resources and tools available to the CCTSI community.
Individual CCTSI Members:
Determine the "minimum effective dose" of video meetings you can tolerate before Zoom fatigue.
Group your meetings for afternoons only, or on certain days of the week, or revert to phone calls.
Identify and block time on your calendar for writing and creative work.
Learn how to use communication platforms such as Microsoft Teams and Zoom or ask a team member to become the expert. The Office of Information Technology is available to help.
Learn how to navigate the library and download articles remotely. The Strauss Health Sciences Library is available to help.
Learn to digitize your documents, versus printing, by editing and signing documents using Adobe.
Learn how to run positive and productive virtual meetings.
Learn how to talk to your team, build your team's resilience and re-craft their jobs during COVID-19
CCTSI and University Leaders, Principal Investigators and Project Managers:
Schedule virtual or on-site small group social gatherings such as writing retreats, coffee breaks, or happy hours to bring teams together routinely.
Coordinate networking opportunities within and across departments.
Identify IT issues your teams are experiencing and address them. For example, would they benefit from an updated computer, second screen, or printer in their home. Discuss if they can take their work computer home during the COVID-19 remote work time.
Broadly share tools and resources that can support remote work, personal health, and a good remote work culture.
Provide trainings for newly virtual leaders to support team culture and productivity.
Provide forums to share remote work best practices, how laboratory and clinical researchers are addressing challenges, how parents and others are adapting to work and home demands.
Provide forums to discuss the mental health impacts of remote work, COVID-19 and the health and economic challenges our institutions and society are facing.
Share how research programs are addressing delays in research, how they are communicating with funders and study subjects, and what the new normal may be for research in the United States.
During this time of uncertainty, we ask that you acknowledge to yourself and your team that the pandemic is not an extended sabbatical. Please take time for yourself, address your needs, and the needs of your community. We are all in this together.
Categories:
Colorado School of Public Health

Community News

CU Innovations

Lauren's Newsroom

School of Medicine

|