Powering Research for 30 years
Karen Morgenthaler makes an impact through her career in the laboratory
Wendy Meyer | CCTSI
Dec 13, 2021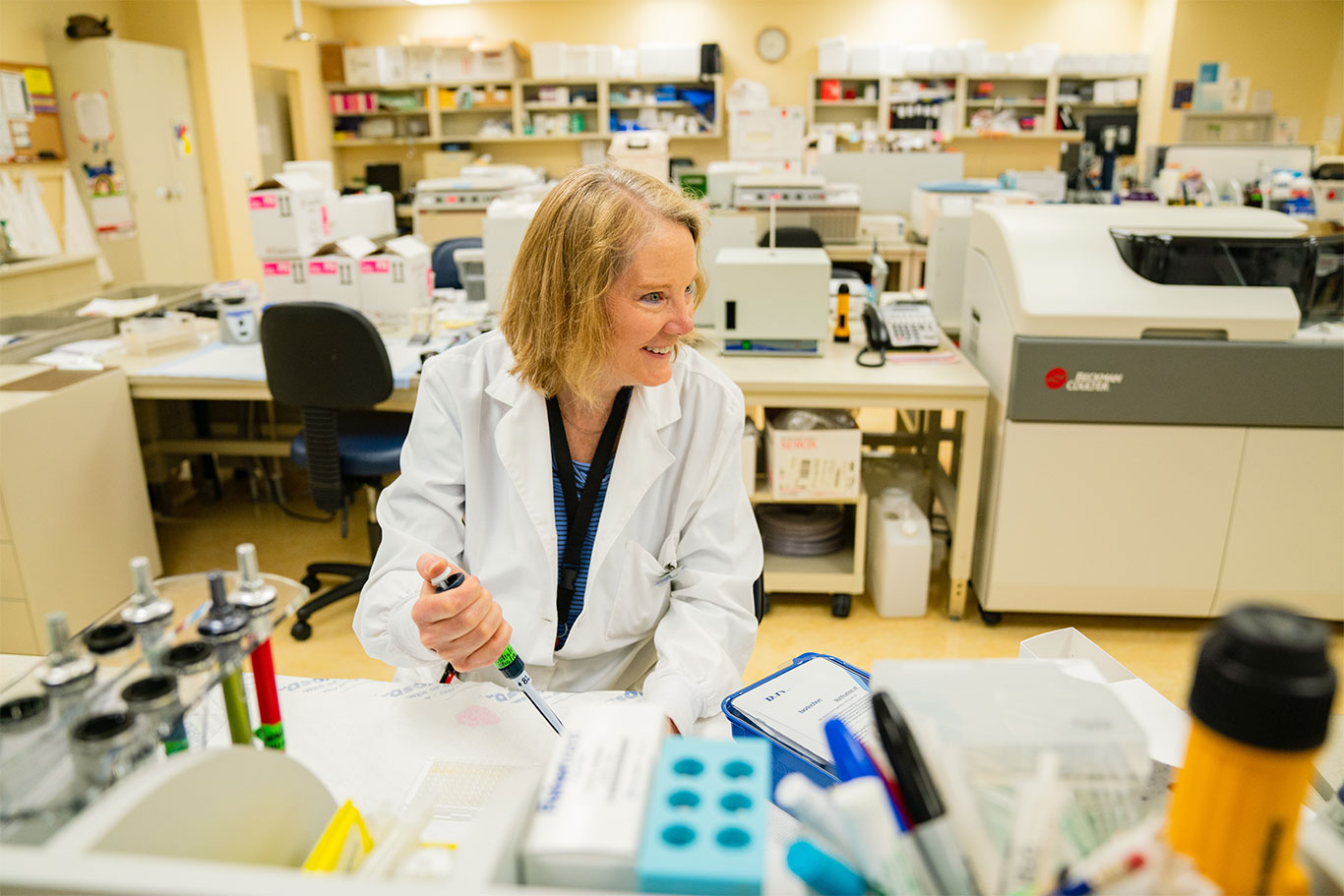 In 1991, Karen Morgenthaler started a new position working for Dr. Chip Ridgway in the endocrinology lab at the University of Colorado School of Medicine. After 30 years of service for the university, most of which took place in the lab at the
Colorado Clinical and Translational Sciences Institute (CCTSI)
, Karen will retire at the end of 2021.
In her first job at CU, Karen helped operate the reference laboratory for University of Colorado Hospital, using her degree and certification in medical technology. In 2005, Karen moved to the General Clinical Research Center lab, which became the CCTSI in 2008. As a PRA (and later Senior PRA) in the Clinical Translational Research Center (CTRC) Core Laboratory, Karen has run thousands of assays for dozens of research projects on aging, obesity, diabetes, sleep studies and COVID-19 vaccine studies.
"As a PI, I have been very appreciative of Karen's management of the CTRC Core Lab," says Distinguished Professor Wendy Kohrt. "She and her team have always gone above and beyond to ensure that lab needs for our studies are met, such as developing strategies for returning results in a manner that ensures certain members of the research team remain blinded to lab results and helping us set up a process for doing COVID-19 diagnostic testing."
Karen says she loves learning about the research ideas principal investigators have. "It is fun to see how they set up their assays," she says. "Our job is to make sure the procedures they have put together run smoothly. We are doing what they have asked us to do in a reasonable fashion. It needs to be done well and efficiently."
Professor of Infectious Diseases and Chief Clinical Research Officer Thomas Campbell says, "With Karen's leadership during COVID, the lab implemented rapid COVID PCR testing that has been a great asset for our COVID vaccine studies."
Campbell led several vaccine trials; the lab's work enabled participants in the trial to get tested and get results within hours instead of the 24-to-48-hour turnaround in the hospital lab. "We are now using the rapid PCR testing in the CTRC lab to screen and enroll patients in a COVID prevention trial," says Dr. Campbell.
Karen says she enjoys the excitement of her job along with all the smart people with whom she works, "I find that stimulating."
Under Karen's management, the lab maintains College of American Pathologists (CAP) and CLIA accreditations, illustrating a high quality of performance in all aspects of the lab. "Our lab has a great group of techs that I have enjoyed working with for many years. They will be a strong team as the lab moves into the new building and the next grant cycle," Karen says.
When looking back at the research in which she participated, Karen recalls a particularly exciting project in the endocrinology lab, which helped to develop an intraoperative parathyroid gland test. While a patient was on the operating table, undergoing surgery to treat a thyroid tumor, Karen and her colleagues would run the test. "Doctors would be in the operating room, operating on the parathyroid gland, and they'd bring a sample. We would run it right then to see if they got everything [diseased parathyroid glands] out. We were one of the first labs that did that," Karen says. "That was kind of cool."
Karen says she loves having to figure things out. Perhaps this is what kept her motivated and successful in the lab for 30 years. She says, "If something breaks, we fix it. If something does not work, it is a puzzle. We have to figure out how to make it work."
Tags:
CCTSI
research
Staff