Program Spotlight: I-CORPS@CCTSI
Cristine Schmidt | Colorado Clinical and Translational Sciences Institute
Dec 21, 2020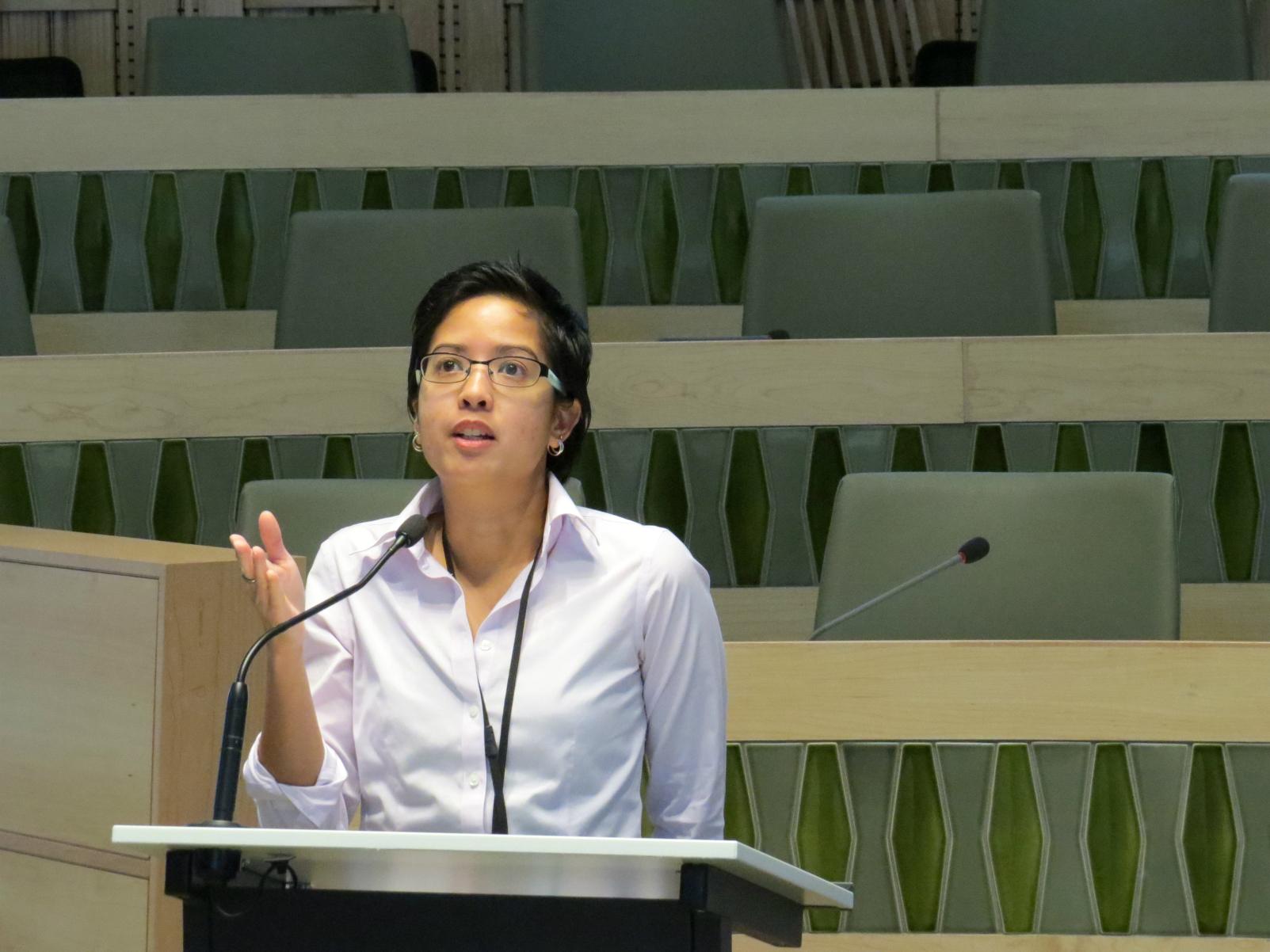 Since 2011, the National Science Foundation's I-Corps program has trained researchers to take their promising ideas and technologies from the laboratory to the marketplace. In 2016, the NIH expanded the concept to include biomedical researchers and translational scientists, and they chose the CCTSI as one of their pilot sites. Hence, I-Corps@CCTSI was born. It is a team-based short course that guides teams through the early stages of customer discovery. Teams test their business model hypotheses for their technology, device or idea. (At left Dr. Leah Villegas, from the 2016 cohort, makes her final presentation in the short course.)
The program is part of the CCTSI's Innovation Ecosystem, which was established by Elaine Morrato, PhD and is now led by Cathy Bodine, PhD. Daniel Holtrop, MA, has managed the program for the CCTSI from the beginning. When asked about a team that has found success after graduating from the short course, Dan mentioned the Step-Up Asthma program, a multidisciplinary school-centered program, led by Stanley J. Szefler, MD, research medical director and director of the pediatric asthma program for the Breathing Institute.
More than nine percent of children in the United States suffer from asthma. While there's no way to prevent asthma, there are step-by-step plans for living with the condition and preventing the attacks.
Step-Up was designed as an outreach program with asthma counselors as a bridge between subspecialty asthma care, primary care providers, school nurses and children with asthma.
Before I-Corps@CCTSI, Step-Up asthma began in Denver Public Schools (DPS). While operating within DPS, a total of 252 students enrolled in the program. Findings from an evaluation at that time showed that Step-Up resulted in improvements in the number of asthma action plans, rescue medications at school and asthma controllers. These findings affirmed the need for a guideline-based school-centered asthma program such as Step-Up.
Subsequently, Szefler sought the guidance of I-Corps@CCTSI to expand the program to other school districts throughout Colorado and perhaps nationally.
"I participated in the I-Corps@CCTSI program in order to sharpen the profile of our school-centered asthma program to make us more competitive for an NIH grant," said Szefler.
With the help of I-Corps@CCTSI, Step-Up received a dissemination and implementation grant from the National Heart, Lung and Blood Institute: the UG3 Disparities Elimination through Coordinated Interventions to Prevent and Control Heart and Lung Disease Risk (DECIPHeR) grant. "This grant opportunity allowed us to determine whether our program could be extended to rural and midsize cities in Colorado," states Szefler.
Now they have expanded to six school districts in the Denver Metropolitan Area with funding from the Colorado Department of Public Health and Environment (CDPHE) and the National Heart, Lung and Blood Institute (NHLBI). They have also established training hubs in five regions in Colorado through the NHLBI DECIPHeR grant.
"The I-Corps@CCTSI program helped me to successfully apply for funding in order to develop a registry for children with severe asthma in our Breathing Institute," Szefler said.
Szefler says the skills he learned in I-Corps@CCTSI will be used in other projects: to characterize the severe asthma population, to assess the impact of asthma biologics and to establish a system for long-term follow-up to understand the natural history of severe asthma in children. "We have also established an innovative program to apply electronic medication monitoring for evaluating medication adherence in children with severe asthma," says Szefler.
"I'm excited about the participants! We have all these amazing teams that come to I-Corps@CCTSI for training," Bodine says. "Various groups have already contacted me after the short course, informing me that they have already gone on to start building their progress toward translating their products outside of the lab."
Tags:
CCTSI
Entrepreneurship
innovation